Fastener Parts
Product categories of Fastener Parts, we are specialized manufacturers from China, Fastener Parts, Metric Machine Screw suppliers/factory, wholesale high-quality products of Oem Nut Fastener R & D and manufacturing, we have the perfect after-sales service and technical support. Look forward to your cooperation!
China Fastener Parts Suppliers
A fastener is a hardware device that mechanically joins or affixes two or more objects together.
Fasteners can also be used to close a container such as a bag, a box, or an envelope; or they may involve keeping together the sides of an opening of flexible material, attaching a lid to a container, etc. There are also special-purpose closing devices, e.g. a bread clip. Fasteners used in these manners are often temporary, in that they may be fastened and unfastened repeatedly.
Some types of woodworking joints make use of separate internal reinforcements, such as dowels or biscuits, which in a sense can be considered fasteners within the scope of the joint system, although on their own they are not general purpose fasteners.
Furniture supplied in flat-pack form often uses cam dowels locked by cam locks, also known as conformat fasteners.
Items like a rope, string, wire (e.g. metal wire, possibly coated with plastic, or multiple parallel wires kept together by a plastic strip coating), cable, chain, or plastic wrap may be used to mechanically join objects; but are not generally categorized as fasteners because they have additional common uses. Likewise, hinges and springs may join objects together, but are ordinarily not considered fasteners because their primary purpose is to allow articulation rather than rigid affixment.
Other alternative methods of joining materials include: crimping, welding, soldering, brazing, taping, gluing, cementing, or the use of other adhesives. The use of force may also be used, such as with magnets, vacuum (like suction cups), or even friction.
Fasteners are used for fastening and application of a very broad class of mechanical parts. In all kinds of machinery, equipment, vehicles, ships, railways, bridges, buildings, structures, tools, equipment, instruments and supplies, such as the above, you can see a wide variety of fasteners. It is characterized by many different specifications, performance of different purposes, and standardization, serialization, GM seed is also very high degree. Therefore, it was also the existing national standards for a class called fasteners standard fasteners, or simply standard parts. Fasteners are the most widely used machine parts. With China's accession to the WTO in 2001 and entered the ranks of the international trading nation. China's fastener products are exported to countries around the world, the world's fastener products are constantly influx of Chinese market. As one of the fasteners import and export volume of larger products, to achieve international standards, to promote Chinese enterprises to the world of fasteners, fastener enterprises to promote the full participation of international cooperation and competition, with all the important practical significance and strategic significance. Due to the specific requirements of each specific fastener product specifications, dimensions, tolerances, weight, performance, surface condition, marking methods, and acceptance inspection, marking and packaging projects.
We supply big range of such fastener.
B. Main particulars
MAIN PARTICULARS

Material

Carbon steel(20#-60#, S235-S355-), Alloy steel(4140,4340,42CrMo, -)

Standard

ASTM, ASME, DIN, JIS, ISO, BS, API, EN

Certificate

ISO9001

Tolerance

Up to +/- 0.002mm

Dimension

As per drawing, as large as we can

Processing

CNC turning, CNC turning and milling compound processing, 3/4/5 axis CNC Machining center, wire-cutting, EDM, grinding etc.

Finishing surface

Machined surface with oil, blasting and painting, anodize, polishing, powder painting, electrophoretic coating-

Marking

as per clients` requirements

Inspection

material, construction, dimension, heat treatment, hardness, NDT

Quality

ISO9001, PPAP control production

Lead time

3-20 days for sample, consult with customer for mass production

Delivery

Express for sample, ocean shipping/air for mass production

Our Capabilities

CNC machining, CNC center machining, drilling, milling, turning, grinding, tapping, boring

Engineering & manufacturing services

R&D process, tooling and gauging design, product design

Integrated CAD/CAM system, test and measuring

Others

Recyclable, in line with environmental requirements and standards, and reliable
C. Construction
Construction by machining
D Workmanship
The workmanship have good production practice. Care are taken to ensure High accuracy and smooth surfaces
E. Certificates
- Material certificates
- Measuring reports
- Inspection protocol
- NDT reports
- Fixed certificate: ISO9001 certificate
The photos of our Fastener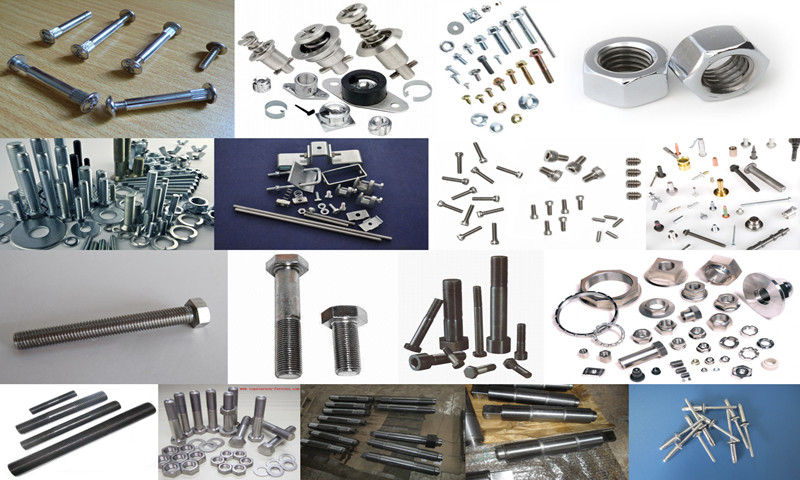 Our service
Besides above the general specifications, we can also supply some specific Machining Parts as clients' requirements.
Package and shipping
Export cartons, pallets, wooden cases, Polybags
container package and container transportation